We believe in the power of storytelling, both for the teller and the reader or hearer, and want to use our talents to help bring more stories to the world.
Avosa Books is a special division of Guglik Design, a design and marketing firm committed to design that makes a difference. We bring that same commitment to your books. As we were asked to design and help shepherd more and more books to market, we decided that this is an area we really want to focus on, so we created Avosa Books.
Chandra Guglik is the owner of Guglik Design and Avosa Books. She has more than 20 years of graphic design and marketing experience and has designed a difference for countless authors, small businesses, and non-profits.
Who Is Avosa?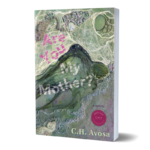 C. H. Avosa is the pen name of Chandra Guglik. She is the author of Are You My Mother?: A Novel, released in March 2021. Connect with her author pages here: